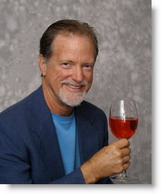 Salute' !

Rusty's first wine tour was in Santa Barbara with his friends in 1976. He had captured the opportunity to visit many more wineries in Napa Valley when he lived in Sacramento, CA and additionally he took several courses in wine tasting. When he and his wife, Karen, bought their first house in Denver, Colorado, he faced the problem of an over-abundant amount of Concord grapes, more than his family could ever consume. Instead of making jams and jellies, he decided to make wine. That year 1986, his first wine bottle was labeled as Prince of Wales. Since then that name stays with him. There have only been three or four years since that he did not make wine.

Rusty has produced Merlot, Chardonnay, Peach, Apricot, Blackberry, Blueberry and currently Pinot Noir. He grows his own Pinot Noir plants in his backyard and he looks forward to expanding his expertise of this Pinot Noir variety. Near his Camas, WA residence, he continues enjoying wine tours in Pacific Northwest region, rich in wineries.

Karen and Rusty enjoy hosting wine tasting parties. Now retired, he is involved in gourmet cooking, often accompanied with, what else, selected fine wines. His proud wine collection consists of Marilyn Merlot and Marilyn (Monroe) Cabernet Sauvignon, plus several French 1961 vintage bottles, one of 4 top vintage years in the 20th century.

To all you dear readers, Rusty welcomes any contribution or inquiry to this new publication and future issues of Deaf Grapevine. Upon request, he is willing to assist in coordinating a wine tour or workshop.

Happy toasting and drink responsibly!
Rusty Wales, the vintner of Prince of Wales wines


Mission Statement:
This web homepage is established for, by and of Deaf fellows and friends to promote interests of wine making, to offer technical support for newcomers as well as seasoned winemakers, to encourage healthy habits and to raise better awareness and enjoyment of wine tasting.
Vision (action plan): While Deaf community members reside across the country, they are able to connect to one another through newsletters, emails, videophone calls, special events, only to name a few.
---
---