19th Deaflympic Games in Rome, Italy

Opening date: 22 Jul 2001
Closing date: 1 Aug 2001
Nations: 71
Athletes: 2405
Sports: 15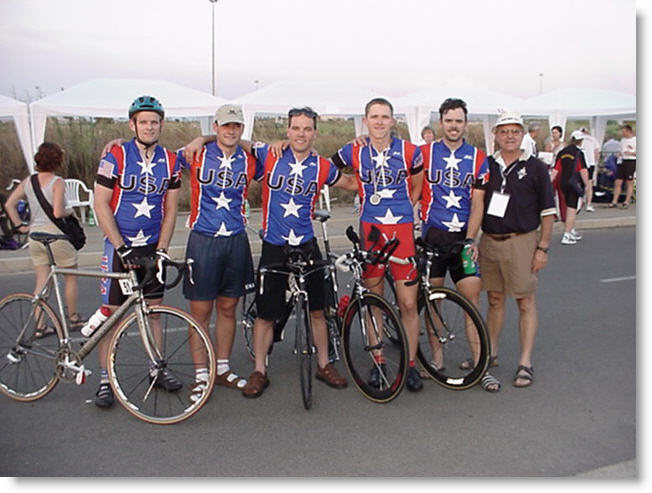 Charles Cordy, 39, of Gig Harbor, Washington,
Willie King, 22, of Rochester, New York,
Trevor Kosa, 28, of Redmond, Washington,
Nick Schreiber, 20, of Tucson, Arizona,
Paul Wood, 33, of Fishers, Indiana and
Bob Morrison of Fremont, California as the cycling team coach

19th Deaflympic Games in Rome, Italy




by chris kaftan - silent news/usadsf

On the first day of cycling races, USA came away with two medals, a gold and a silver. A full day of heat races did not tire out Trevor Kosa as he sprinted away from his teammate to capture the gold in the 1000-meter sprint.

Teammate Paul Wood received the silver, narrowly losing to Kosa in what fans called a photo finish. Kosa credits his endurance and speed in overtaking Wood in the final 200 meters. "My endurance was strong and I used my strategy to enable myself to win, and boy, it feels good", Kosa said.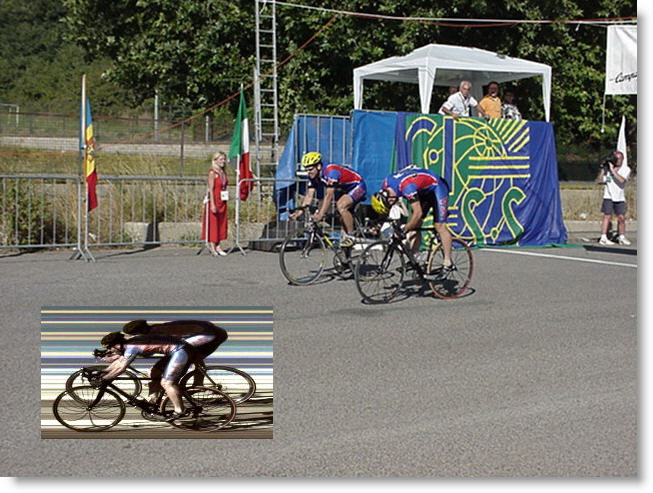 Trevor Kosa outsprinted Paul Wood by a photo finish.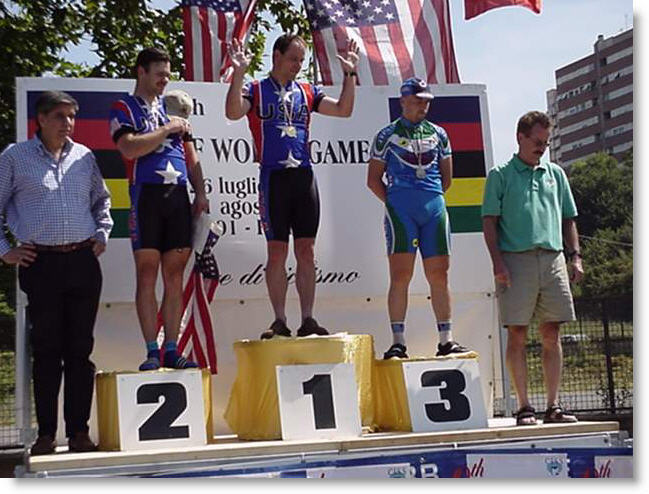 Unidentified Staff - Paul Wood - Trevor Kosa - Daniele Alberti of Italy
Bobby Skedsmo as the CISS Technical Director
Two days later, Wood responded to Kosa's gold with a gold of his own in the points race. In a vice-versa performance for USA, Wood's total of 34 points beat out Kosa's 32 points, earning Wood his second medal of the Deaflympics, a gold. Kosa also earned his second medal, a silver.
In other cycling action, USA earned a silver medal in the 35-kilometer Time Trial race when Nicholaus Schreiber earned his first medal of the Deaflympics with a time of 44 minutes and 34.17 seconds, nearly two minutes behind the gold medal winner from Germany. Kosa was not far behind, grabbing sixth place with 45 minutes.
France Takes 100-kilometer Road Race
by glenn lockhart
Bernard Barugola of France edged Czech Republic's Josef Merunka by 1/100 to capture gold in the 100-kilometer road race with 2:07.42. The gruelling race saw the early morning temperature quickly escalate by 15 degrees Fahrenheit (7 degrees Celsius) and the pool of riders drop from 24 to 14.
Roberto Malacarne of host Italy led the trailing pack and took bronze as he finished at 2:09.32, nearly two full minutes behind the top two finishers; he also took bronze in the 50km point race two days ago. USA's Paul Wood, who won the event in 1997 and gold in this year's 50km point race event, never came close to defending his title as he started last and finished second to last. The course was a lOkm stretch just outside of Rome's rural University Tor Vergata, and the race thus consisted of 10 laps. On the fifth lap there was a threerider collision initiated by an Italian who sideswiped a Czech, causing him to lose his balance and knock out an USA cyclist, who quickly got into the way of a German. Both the Czech and the US cyclists received medical attention while the German only hobbled to his booth and berated everybody in neighboring USA's booth for several minutes. After six laps the count of riders had dropped to 17 due to the 3-person wipeout, exhaustion on several cyclists' part and one cyclist getting lost after trailing far behind and receiving wrong directions from an official. The race became obvious by the ninth lap when Barugola and Merunka broke from the pack and built such a convincing margin that the rest then became a race for the bronze. As the lOth lap started, both cyclists were still in a dead heat, but Barugola would prove himself the victor and Malacarne the best of the pack.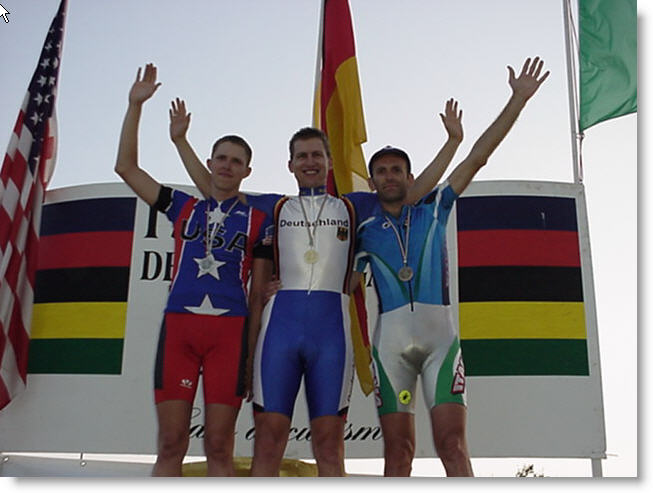 35-kilometer Individual Time Trial
Nick Schreiber - Mielke-Weyel of Germany - Libor Cizek of Czech
19th Deaflympics in Review
by glenn lockhart
The 19th edition of the Deaflympics has now come to an end, and the torrents of deaf people that overtook the streets of Rome near the Olimpico have dissipated. As much as this was an olympics graced by the finest in deaf athletics, it was also an olympics tainted by disorganization on a massive scale. Many spectators had difficulty with getting their tickets, going to events, finding information, asking for and getting help, and keeping current with the performances of their countries. This widespread confusion gave way to a new sign for Rome, which was the sign many use for mess or chaos. Communication is easily the root of all this; the organizers were mostly non-signers and the deaf volunteers were often not willing to employ body gestures. And with the games never taking place at their scheduled times, all media and notices given in Italian only, and the shuttle buses seldom running on time, spectators often relied on word-of-mouth information. But even this did not extinguish the spirit of the Olympics for many as the crowd stayed 5,000-plus throughout, proving yet that our deafness truly unite us all.
The clear achievement of the organizing committee, without respect to their proximity to Stadio Olimpico, was the selections of facilities; many were spectacular in architecture and accommodation, most notably in aquatics, tennis and volleyball. Competition in all events were truly elite and demonstrative of the Deaf's athletic prowess. The summer sunshine the Games saw those two weeks was the absolute best. And the cultural gatherings that took place during the evenings well showed that deafness tie us in bonds that transcend even sport.
On the whole, Rome was host to a very memorable two weeks and the many thousands of Deaf that came from countries all over have been indelibly enriched with memories, cultural and ethnic enlightenment, friendships, and enduring causes for pride and inspiration.
The torch is now passed... on to Sundsvall, Sweden and Melbourne, Australia!
---
Cycling to Remember - Photo Album
See the overall results of the games


---