18th World Games of the Deaf in Copenhagen, Denmark

Opening date: 13 Jul 1997
Closing date: 26 Jul 1997
Nations: 62
Athletes: 2068
Sports: 15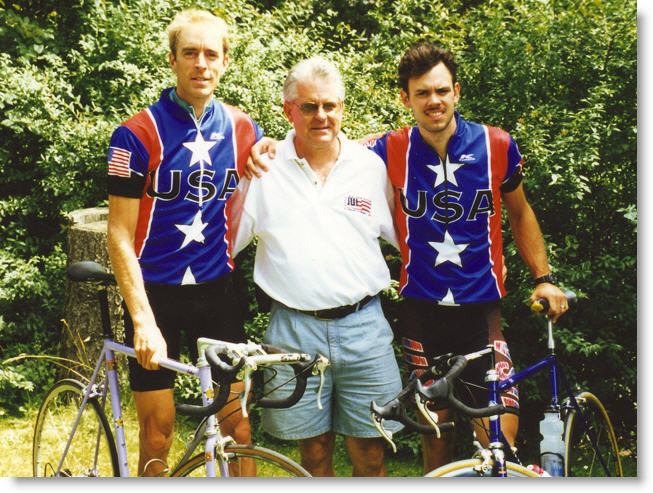 John Funk, 36, of South Kent, Connecticut,
Bob Morrison of Fremont, California as the cycling team coach and
Paul Wood, 29, of Greensboro, North Carolina

18th World Games for the Deaf in Copenhagen, Denmark

Thunderous Applause to

The following account about the cycling results is written by Terry Giansanti who was there to witness the scene. Of this picture above is Coach Bob Morrison of Fremont, CA, Paul Wood of Greensboro, NC and John Funk of South Kent, CT.

COPENHAGEN, Denmark, July 14, a 23-year-old Italian cyclist, Oscar Lainati upset 1993 gold medallist Paul Wood in the finals of the 1000-meter sprint competition, Lainati burst onto the international scene by shocking a confident Wood and squashing his hopes for a repeat gold.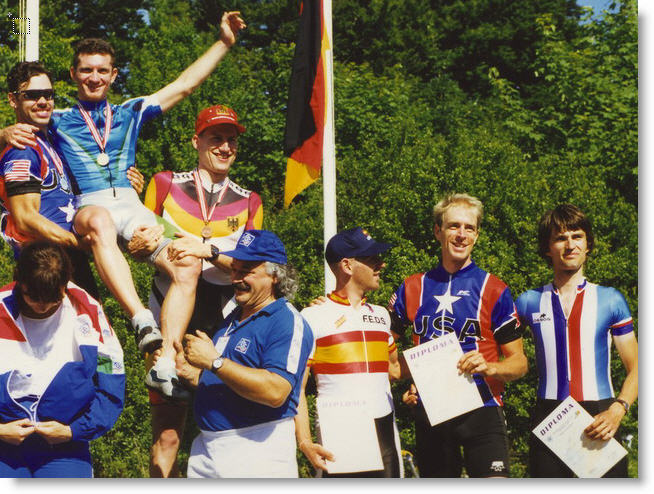 At the Podium: A Victory Celebration
With the help of unselfish teammate John Funk, Paul Wood added another medal to his til. This time a gold for finishing first in the 100-kilometer road race. The Americans were up against stacked (5 riders each) teams of Italians and Germans, and still managed to eke out the victory. The race ended with a mad dash to the finish line, prompted by Funk's ploy with 1,000 meters to go. Funk's move might have cost him a medal but ensured that Wood would have a shot at the gold. Wood was glad to obligate and "carried the bacon home."
Paul Wood, once again utilizing masterful support from teammate John Funk, won the 50-kilometer Individual Point Race, conducted on the outskirts of Copenhagen. It was Paul's second gold medal and third medal of the Games. The cycling team finished in the money in three out of four events, even though they had only two riders and were competing against well stacked teams of Italians and Germans.
---
See the overall results of the games


---