20th Deaflympic Games in Melbourne, Australia

Opening date: 5 Jan 2005
Closing date: 16 Jan 2005
Nations: 75
Athletes: 2300
Sports: 16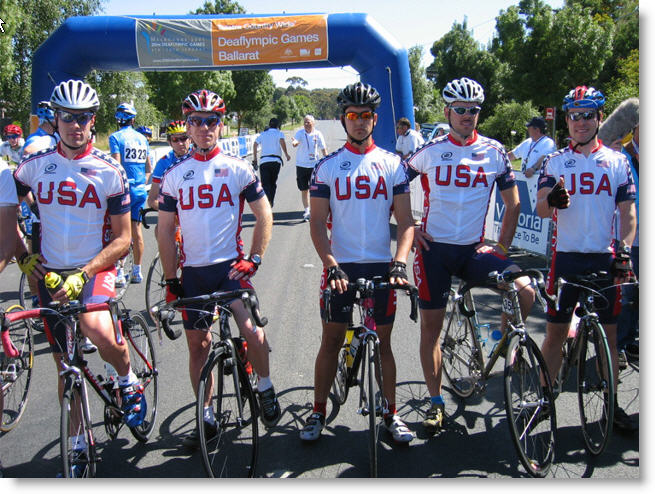 Johnny McLean, 33, Fishers, Indiana,
Matt Idler, 31, Sacramento, California,
Rory Osbrink, 28, San Diego, California,
Paul Wood, 37, of Fishers, Indiana and
Trevor Kosa, 32, of Redmond, Washington,
Charles Cordy of Olalla, Washington as the cycling team coach (not in picture)

In the 1000-meter sprint events, Paul Wood, a silver medalist at the Rome Games, was seeded as the second fastest of the games but was boxed in making a turn on the curve in the first heat, so that left Trevor Kosa, a gold medalist at the Rome Games, a solo potential for medal. He briefly lost to the German sprinter on the first heat of finals, but then he took it right back to defend his title as a sprint champion.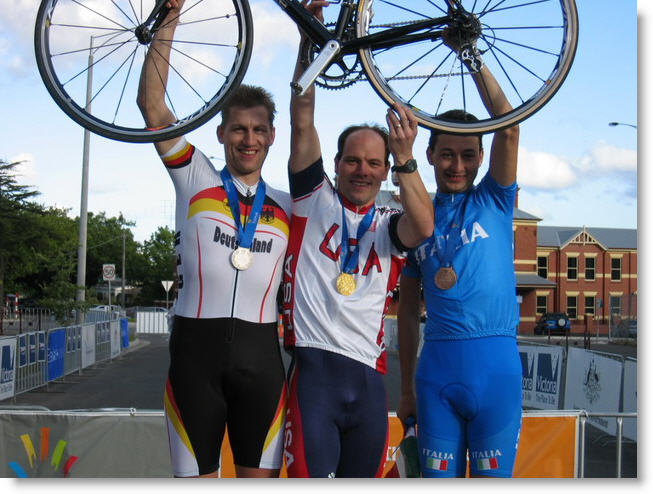 Gerald Mielke-Weyel of Germany - Trevor Kosa of USA - Luca Buontempo of Italy
Words from the Team Members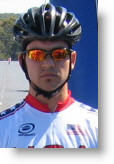 Rory Osbrink of San Diego, California
$4,500 = Cheap and Awesome Bicycle Education
(Note: Each athlete was required to raise $4,500 fund for his trip to the games.)
Needless to say, this was a very valuable education for me. I was lucky to even reserve a spot on the team and intended not to let the opporunity go to waste.

Sprint Race:
This was definitely a cool race. I held too much in reserve going for the flying sprint and my overconfidence resulted in a very humbling lesson. The lesson: do not save up anything, especially when going for the Gold-- Kosa was really impressive in this event; and in retrospect, I would have NEVER been able to beat him at my shape. I really was puzzled to the overturn of Paul's appeal, at least some justification in the interpretation of rules (e.g. explain it like a football referee). This is one aspect that I think needs to be relooked at prior to 2006 World Cycling Championship.
Time Trial:
Disappointment. I genuinely felt that I could have done better in the race; perhaps the lack of a hard warm-up along with lack of time trial specialized training the week before the games made up for an inadequate performance. Nonetheless, this is one area that I will definitely improve-- it will be my focus at the next Deaflympics.
Road Race:
I absolutely loved the course despite what anyone says. A lousy start and poor descending skills is what did me in. It was too bad that Matt and I formed a partnership that resulted in elimination because we were definitely reeling people in. This race really boosted my confidence because it showed my strength as a cyclist and I finally overcame some of my descending fear.
Points Race:
Ahhhh!! This was the most frustrating one for me. Too many factors are to be blamed in this race but it is not necessary for me to go into details. I was disappointed that I could not help out the team as much as I could mostly due to rule interpretation (again), not to lack of strength or technique on my part. Yes, I agree with Kosa- communication could have helped us out a lot, especially in securing the gold. With better communication, perhaps the teamwork would have been better too.
Team:
I love you guys! It was a great experience for me to get to know everyone. I sincerely mean it when I say that I loved writing the articles and to brag about all of you-- also I learned so much, it was an invaluable education for me. As seen above, the equation rings true-- I could have not learned as much as I did in those three weeks anywhere else, especially on the bike. I thank Coach Charles for the opportunity and for being patient with me and for appreciating my potential. I do hope to see all of you at the World Deaf Cycling Championships.
Post-Deaflympics:
Immediately after arriving, I got my bike fitted-now it rides so much better! I also swapped my pedals for speedplay zeros-- ahh, Paul and Johnny, you were right-- they are so much easier to ride in. I've already raced some crits and am signing up for a lot more, along with Sea Otter and RR. Will continue to do some tri to satisfy my sponsorship but the focus is on cycling.
Conclusion:
I was in peak condition (so-called "Die Hard") but lacked experience. This trip alone has taught me EXACTLY what I need to work on and gave me motivation to get out and ride, even in the rain (storm here in San Diego).
Everyone (including Bev), THANK YOU!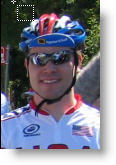 Trevor Kosa of Redmond, Washington
I learned a lot from my coach, Charles and the team members as well! He taught me many new technical tips. I couldn't think of more tips to ask of him concerning how to repair, stay fit and cope with mental stress. As of results were evidents that Charles did his excellence beyond the expectations to reach my goal.
In order to better prepare myself in the road race at the Melbourne Games, I should have known the condition of weather aboard before I had a right quality of training but the weather was unpredictable from time to time. I only had one week of quality training in order to get to the point that I could get better result but the weather was not good to me. Cold cramps bothered me along the way but I manged to stay in the pack up the front with six riders of us and the other two riders that already made a breakaway. I tried to stay with the pack up to the last hill of the last lap but they attacked. I thought that I would stay with the French riders but I concluded that my training was to be blamed. My coach was right. I had to pay the price for it!
On the 50-kilometer points race I think it was ill prepared for us. I realized that information on points earned for the individuals each lap was important. It was hard to see results on the white board that the official used to put on every other lap when we raced through. At the midst of race I had earned a lot of points but somehow we let two Australians break away. We were never able to catch up with them thus they earned enough points to win the gold and silver medals. I once thought that I was not going to earn the bronze medal because I was not sure of the points standing at that time. It was total chaos for me. I wish there was some kind of information that we could see. It is something that we should think about for our next games and at the upcoming world cycling championships.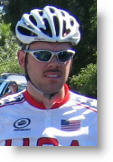 Paul Wood of Fishers, Indiana
See his video at this site:
http://users.ameritech.net/paulwood/deaflympicscycling.wmv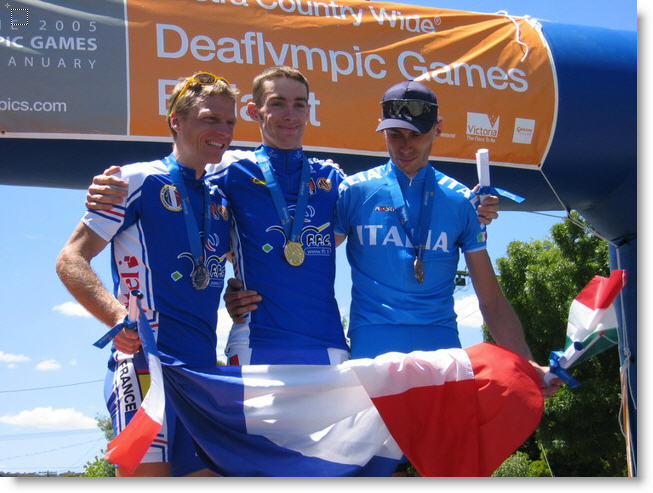 The Winners of the 100-kilometer Road Race
Bernard Braugola of France - David Cioux of France - Luigi Cucco of Italy


Bobby Skedsmo of Pittsburg, California
ICSD Technical Director
100-kilometer Road Race course was in the wide-open outback of Australian hills with dry prairie and eucalyptus trees scattered over the countryside. The sun was beating down on the riders a bit and within hours salt was covering everybody and riders were constantly questing for water bottles. Within fifteen minutes the water was as warm as bath water. The two French riders broke away during the midst of the race. The breakaway was finally established with non-threatening riders for the rest. That left 6-rider peleton chased and never made any good of it until the final hill. The breakaway split in individuals chasing and Luigi Cucco of Italy ended up in the front and racing for the bronze. The French Michel was right behind by a fraction of tenth second. If it were for this French making the third, it would have been the first sweep in the Deaflympic Games history. In this tactical race, Kosa of USA lost out, but still managed a nice placing in the sixth.
See the overall results of the races
---


---