"Nothing great was ever achieved without enthusiasm"
---
The Longest Classmates of School History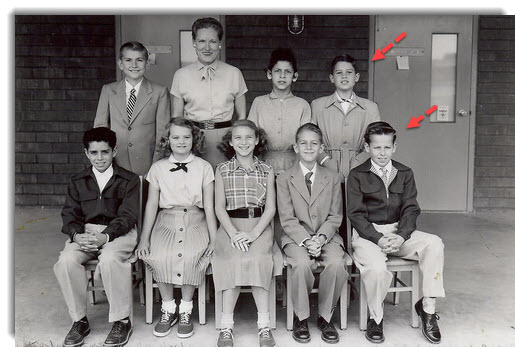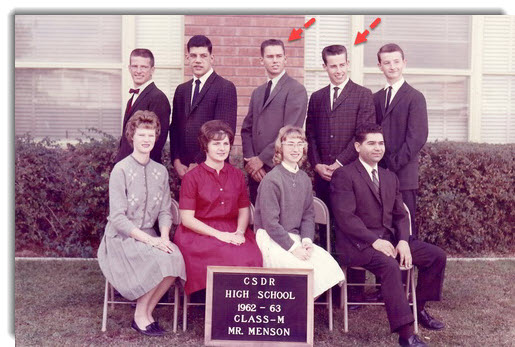 The pictures above show Gordon Johnson and Bobby Skedsmo, who enrolled in CSDR when the new school, CSDR, opened in 1953. Both students remained in the same class for ten years. "From the beginning to the end of the school life"
Posted on February 18, 2023
---
'63 Class Reunion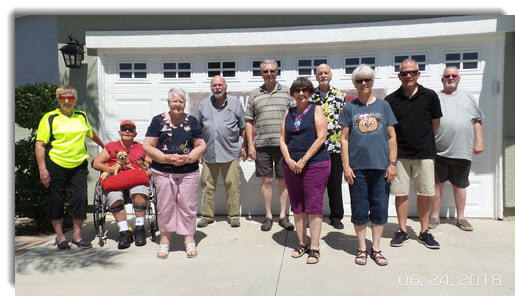 The class reunion committee made possible the class of '63 reunion at Cathy Blood Markworth's residence in Riverside on June 24, 2018 after the 65th school reunion. . . . Let's click on the image (picture) to open the album. Posted on January 16, 2019
---
Where Language and Learning Thrive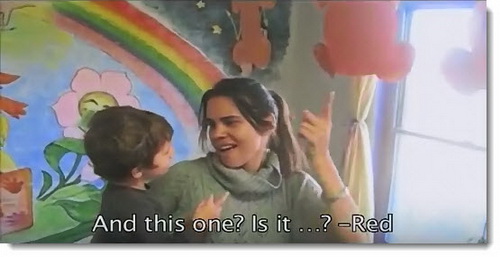 A video tour of the California School for the Deaf in Riverside . . Let's click on the image for the VIDEO. Posted on June 3, 2016
---
Campus Construction Update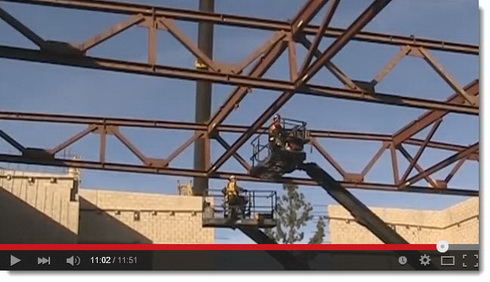 The gym has being erected high. Roof beams are being added. December 2015, we show you the construction stages because next year we will see a brand new cafeteria in 2016. One major change is that the old bakery from earlier CSDR days is converted to additional dining space. The front entrance is grander now with taller doorways. The additional window columned panes treat students to a luxurious view of the mountains. Let's click on the image for the VIDEO. Posted on January 10, 2016
---
Campus Construction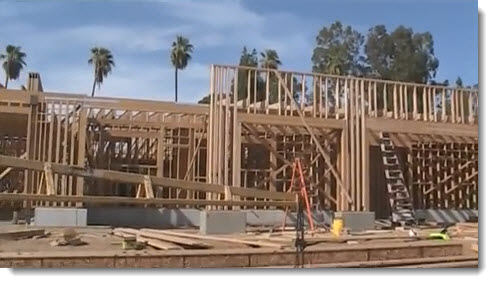 See how fast all this has been built! Mike Anderson has some words about this campus construction. Behind him is the CTE building which will include administrative office, culinary arts, graphic arts, art, technology, TPP, and work ability. The more he shows is the gym and the pool. Let's click on the image for the VIDEO. Posted on October 24, 2015
---
the Wild Bunch of the Classmates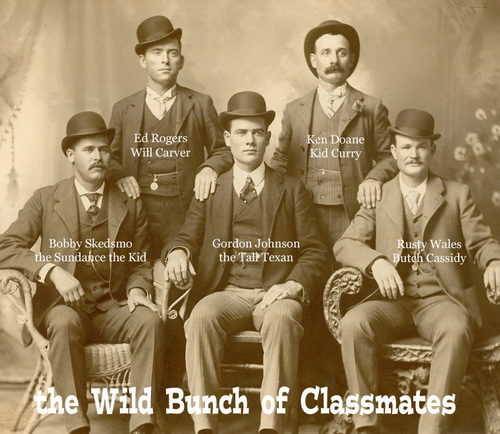 Good Old Days!
Bobby Skedsmo found a picture among many in his vast collection of pictures that is priceless. It is a fantasy of which he also made fun by comparing the personalities of his classmates from the CSDR Class of 1963 with the outlaws from the lawless days of the Wild West during the 19th Century. Remember Paul Newman and Robert Redford as Butch Cassidy and the Sundance Kid in the movie classic? Without a doubt, we remember the movie. Standing in the group picture with them and other famous outlaws is Kid Curry, aka Kendall "Ken" Doane who sadly passed away on September 24. In honoring Ken Doane, Linda Cummings, Sue Cameron, Carol Visser, Walter Cook, Ed Rogers, Gordon Johnson, Rusty Wales and Bobby wish to remember him with love.
Posted on October 5, 2014
---
Ken Doane on the Harley-Davidson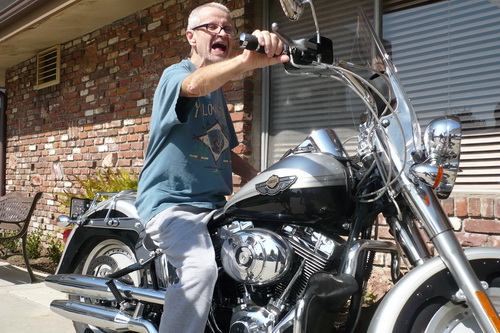 Never too late!
On February 26, Rusty Wales with his friends made time to visit with Ken Doane at the California Home for the Adult Deaf (CHAD) in Arcadia. They had a great moment. Arleen Dobravolskis who works there owns the Harley-Davidson bike. She let him sit on it for posing some pictures. He was overwhelmed. They could not imagine how he handles this big bike.
Posted on March 12, 2014
---
60th Anniversary of CSDR's Existence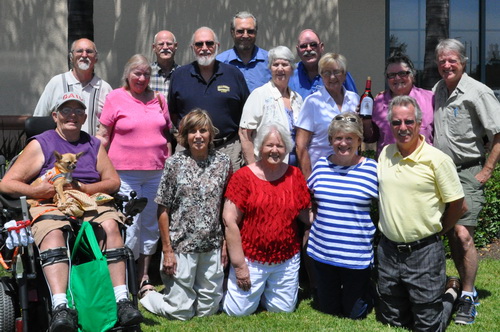 Gathering at the Cactus Cantina
Gail Alvarez Geyer - Virginia Polich DeLoss - Paula Courtright Chandler - Francine Lauer-Skedsmo
Bobby Skedsmo - Jim Foster - Shirley Brown Swegle - Mike Silvis - Charles Marsh - Tom Henes
Diane Bates Cadwell - Dan Golden - Pat Davis - Linda Cummings - Rusty Wales

Kris Beaton and Joan DeWitty Hooper were present at the reunion, but not in this picture.
Everyone who attended the class party had a great time. If the party was great, it was because of our enthusiasm, right?! Live up to our class motto!
At the CSDR Reunion Banquet, Pat Davis was awarded in recognition for her dedicated service to the CSDR Museum. Let's give her a high five!
Please visit our Gallery to see the pictures of CSDR Museum, Tour of CSDR and Banguet Night.
Posted on July 2, 2013
---
Visiting CSDR with captions


Posted on March 25, 2013
---
Deaf StompFest 2012
Deaf StompFest 2012 took place at Mark McCrory's home yard in Riverside. Over 100 fans and crew came to see the contest among the classes from California School for the Deaf who will soon celebrate their 50th year anniversary graduation at CSDR. New experience of stomping grapes for us the selected classmates are Skippy Mangum, David Dobrovech, Adrienne Cleva Kitson, Mickey Pohl with coaches, Rusty Wales, Dick Ramborger and Mark McCrory. See the actions in our DG video below.
(photos and videos by the courtesy of Paul Stefurak, Skippy Mangum and
Bobby Skedsmo)
Posted on October 25, 2012
---
Deaf StompFest
Salute, My Fellow WineLovers and Friends of CSDR!
It is beautiful Summer Time! Below is the link to the new 2012 summer edition of Deaf Grapevine:

When hot weather hits in the Pacific Northwest where it is normally cool, I would be tempted to bypass on the wine and grab a cold beer. Wait! I realize my drinking too many beer could get me a beer belly from this high-calorie beverage. A wine cooler is a great summer drink which can easily be made with little or no effort. The recipes shown in this eNewsletter are flexible; for example, you can use ginger ale instead of club soda (yes a few more calories) and also you can substitute orange/lemon with other fruit that is available in your fridge.
Breaking news: Deaf StompFest (Sept. 29 as in the flyer) is almost sold out! You truly will regret it if you couldn't get a ticket for this exciting event. It is so exciting to know that there are so many wine enthusiasts, more than we could have ever imagined!
Toast to your health!
Rusty
Posted on July 10, 2012
---
Any problem, comment or suggestion?
Contact the Webmaster: skedsmo at earthlink.net