17th World Games of the Deaf in Sofia, Bulgaria

Opening date: 24 Jul 1993
Closing date: 2 Aug 1993
Nations: 51
Athletes: 1705
Sports: 13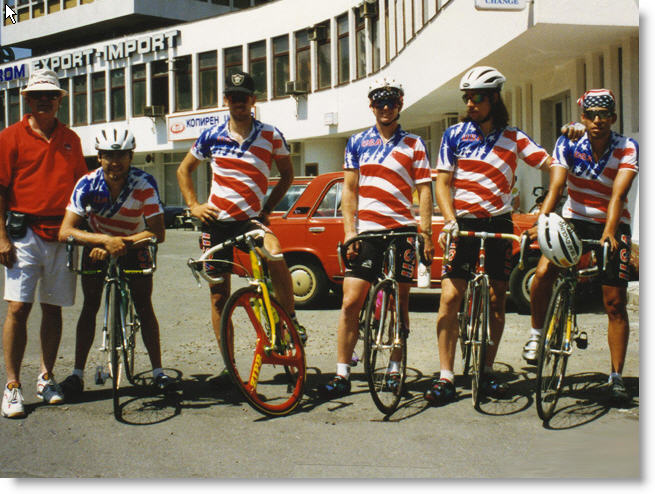 Bob Morrison of Fremont, California as the cycling team coach,
Justin Kreger, 29, of San Jose, California,
Paul Wood, 25, of Greensboro, North Carolina,
Alex Ash, 28, of Fremont, California,
Jon Schmitz, 23, of Santa Rosa, California and
Louis Pedroza, 26, of Anaheim, California

Bob Morrison, the US Deaf Cycling Team Coach, was very happy to have an opportunity of going with the team to the Sofia Games. His experience was overwhelmed and unprecendented as a coach unlike when he was a cyclist at the Rumania Games in 1977. Only disappointments Morrison had were not able to have a motorcycle for motorpacing at the training camp in New Jersey, the outcome of the cycling results as expected, and not able to get all riders to sleep on the same floor of hotel. If they were for sleeping on the same floor, it would be convenient for every rider to share the use of tools and for coach to supervise.

Of the 1000-meter sprint event at the Sofia Games, Jon Schmitz who was a former sprint champion, won the first battle, but the war went to Paul Wood as the world's best sprinter. He settled for second place with a silver medal.

Paul Wood was second placed in the 35-kilometer individual time trial in an impressive time of 53:49 minutes. Dieter Sulak of Czechoslovakia won in a record time of 51:13 minutes. Other US riders:
Justin Kreger 12th 57:06
Louis Pedroza 19th 59:29
Alexander Ash 30th 1:01:57

Of the more prestigious 100-kilometer road race, two Italians teamed up for gold and silver medals successfully. In the beginning, the Americans were active in the front, forcing the fast pace. Although, the American squad controlled much of this, could not pull off the win. With 30 km left, Italian Dissegna took a solo flyer. This breakaway built a max gap of three minutes before American Wood began leading the chase. With 15 kilometer to go, the two Italian riders remained in the back of pack resting and waiting patiently when to attack. They began to break away when the weary peloton caught up with the solo flyer on the ascenting hill with two laps to go. They were powering a breakaway with a one-minute lead over the chasers. American Wood and Schmitz could not work together somehow so they were flatten by ill-mistake. The peloton began to shatter on the final ascent. The two Italians finished with time of 3:01:00. US riders:
Jon Schmitz 8th
Louis Pedroza llth
Paul Wood 15th

Of the 50-kilometer Criterium, American Wood was 4th placed. This one was the most frustrating outcome for the US cycling team's effort.
---
See the overall results of the games


---