10th World Deaf Cycling Championships in Oudenaarde, Belgium

Opening date: 18 Jul 1987
Closing date: 19 Jul 1987
Nations: 10
Athletes: 38
Sports: 1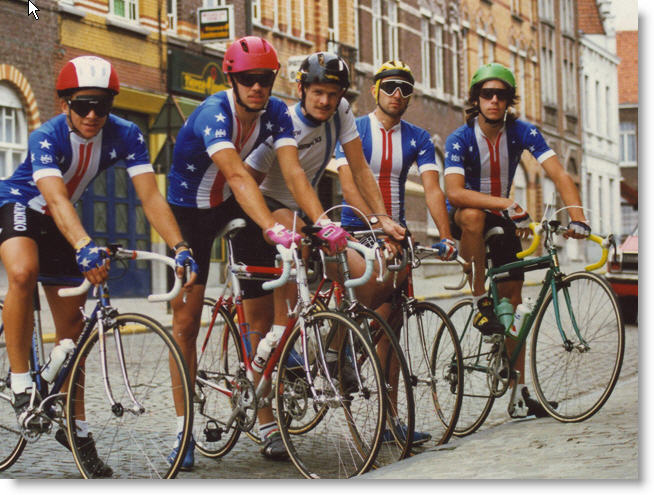 Nicholas Gerrard, 18, of Hermosa
Paul Wood, 18, of San Ramon, California,
Charles Cordy, 25, of Northridge, California,
Ralph Fernandez, 23, of Cudahy, California,
Jon Schmitz, 16, of Santa Rosa, California and
Bobby Skedsmo of Union City, California as the USA cycling team coach (not in the picture)

The word came in with information from the Royale Federation Sportive Des Sourds de Belgium. We were invited to take part in the world cycling championships on 18-19 July 1987 in Oudenaarde, Belgium, Province East Flanders. It was the home of Europe's most prestigious cycling championships.

Our Jon Schmitz, the youngest cyclist (only 16) in the championships, was defeated by Ralph Fernadez in a semi-final of 1000-meter sprint event and then turned on the jet and outsprinted Parikka of Finland to win the bronze. Ralph Fernadez and Charles Cordy and Jon Schmitz made a cycling history as for the first time ever, a country finished with a sweep victory in any cycling discipline.

At the victory podium, all turned toward the flag and "listened" to our national anthem. As a matter of fact, they did not have three U.S. flags and there was only one U.S. flag hoisted. You can guess why this happened!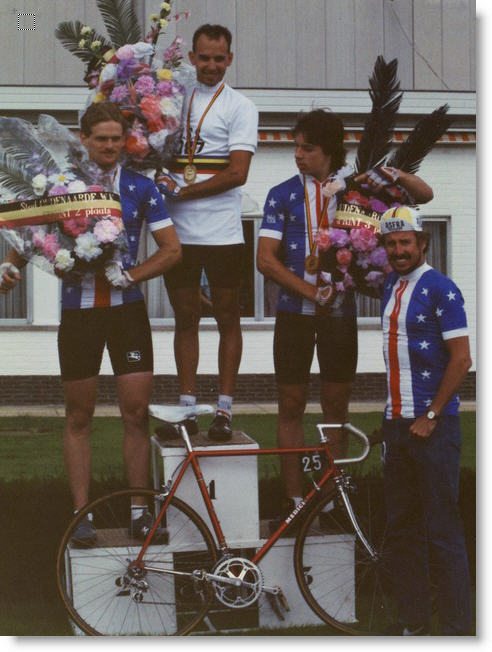 A Sweep Victory for the America
Charles Cordy - Ralph Fernandez - Jon Schmitz - Bobby Skedsmo
Then came the most prestigious event, the 100-kilometer road race. There was nothing on our continent that compared to the cobbles of northern Europe! Bobby Skedsmo was busy getting advice on the proper techniques for riding on the cobbled pavement. As with any uneven road surface, momenteum was the key. Riding fast would minimize the numbing and vibration, but unfortunately, it was not something everyone can do at will during the whole ride. If you think that Belgium's 100-km road race is hard on the cyclists, you should see what it also does to the bike. Flat tires, broken rim, broken spokes, jammed derailleur and lost control (into a ditch) played major roles in the attribution rate. It took an exceptional bike, mind and a good dose of Irish luck to stay in the race!
As the field of 38 cyclists started to zoom along at more than 25 mph, a surprisingly easy feat, they found themselves having trouble with a stretch of road which was too narrow for such a huge field. Some had no choice but to dive into a gutter or ditch, much to the surprise of their riding companions. After the second of 12 laps, there were only 17 cyclists left. All other cyclists were far behind, chasing in frustration.
In the last few laps Jon Schmitz was able to stay closely with the top notch riders. All the other riders were far behind. He tried to take advantage of another rider's slipstream and rode closely behind the French rider, but a strong-willed Italian rider who wheelsucked behind Jon became fiercily uneasy about Jon being not close enough behind the Frenchman's wheel. What came next caught Jon by surprise. The Italian grasped Jon's shoulder violently and threw him back. Jon was badly psyched out. Another Italian rider threatened Jon's front wheel with his own rear wheel and pushed him away. So Jon ended up by riding with tiring Charles Cordy. Charles then revived Jon's spirit by playing out a father-image.
The Italian and Frenchman went off for a good with 5 laps left in the race. Our boys have learned to deal with roughness often found in the international competition.
Jon might feel that his trip to Belgium would not be completed if it were not for a 5-pound piece of pavement he picked up from the cobblestone road. It was a surreal memory for a kiddie! As a matter of fact Bobby Skedsmo was his uncle.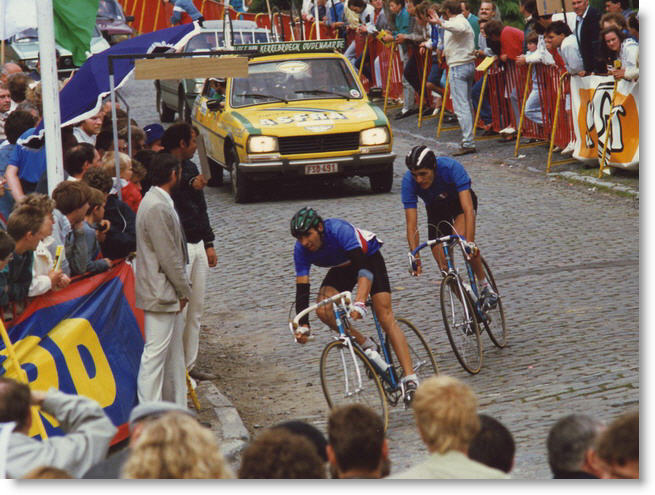 Current leaders on the last lap - the French and Italian Riders
---
See the overall results of the games


---